Think the life of an influencer is free clothes, latte art and trips to Bali? Think again. Instagram's filtered images rarely tell the full story; behind those seemingly perfect shots is the IRL version. To prove that it's not always as glamorous as it looks, we challenged influencer Natasha Ndlovu to take ELLE behind the Insta-scenes and reveal what it really takes to reach those elusive grid goals…
THE BADASS OOTD
'After much trial and error, I've perfected the art of the outfit shot. I like looks that showcase my personality, that are effortless yet aspirational and feature key accessories. But they're not as easy as they might look.
'I always plan in advance, from styling outfits that fit the scheme of my grid (I stick to neutral, tonal colours to keep it consistent) to ordering a bunch of clothes from sites like ASOS and co-ordinating delivery times.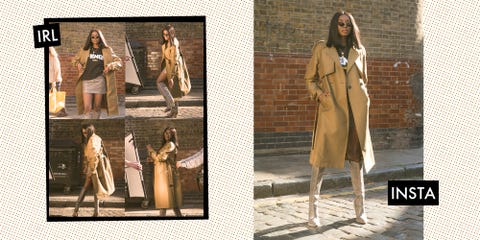 'An iPhone snap isn't going to cut it, but I don't have the resources to hire a professional photographer every time so I ask up-and-coming photographer friends who are happy to help. We'll spend a while scouting out quiet streets where I won't get (too many) odd looks from passers-by and find a simple backdrop that keeps the focus on my outfit.
'What the final OOTD doesn't show is the many clips I use to make the pieces fit, the endless poses I try, the blisters on my feet and all the hanging around waiting for the right light. The angle is key for full-body shots so the photographer usually kneels with the camera angled upwards. And I love an action shot so I'll walk to and fro along the street or step off a curb to create that sense of movement.
'Social media has the power to make you feel inferior and I'm not immune to the comparison trap. Seeing incredible photos of what others are wearing and who has the latest 'It' bag takes its toll and knocks my confidence . But it's important to remember that we're all on our own unique paths and there's plenty of room for everyone.'
THE BEAUTY SELFIE
'When I started my blog, Bisous Natasha, over five years ago, the main focus was fashion. It's important to keep evolving, and this job takes a lot of grafting, so I branched into interiors, travel and beauty.
'I've discovered a real passion for the beauty industry and love testing new products and sharing selfies. When it comes to hair, I recently discovered haircare brand OGX, which is all about bringing out the best in your crowning glory. Whether you're looking for strength, shine, straightening or silkiness, this isn't about changing your look—it's about reaching your own hair goals. I use their Kukui Oil range, which restores and smooths, protecting my hair from rain and humidity, too.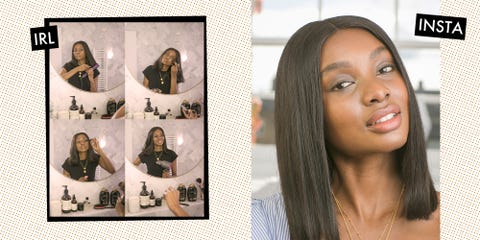 'As much as I want my selfies to look glossy, I do my whole beauty routine in my little bathroom. There's no glam squad here! I'll spend an hour getting my game face on, then will take plenty of shots with my iPhone—you don't need a professional photographer for this one—until I find an angle I'm happy with.
'Bright, natural lighting is best so I'll stand by a window and try to shoot at golden hour. The light is so flattering and brings a soft glow to your face. Otherwise, I'll set up LED spotlights to create a similar effect. Either way, I always brighten and sharpen my photos using the Snapseed app – the filters are way better than Instagram's and there's plenty of subtle lighting effects.'
THE ARTY SHELFIE
'It's important to have variety on your grid so I spend a few hours shooting still life images that don't feature my face. Morning light is perfect for creating shadows across products so I wake up early, collect various items in a similar colour palette and arrange them into a pretty set-up on a simple marble surface. I avoid props that are too distracting but may pop to the shops to buy a fresh bunch of flowers. What you don't see is the absolute clutter that I've shoved out of view.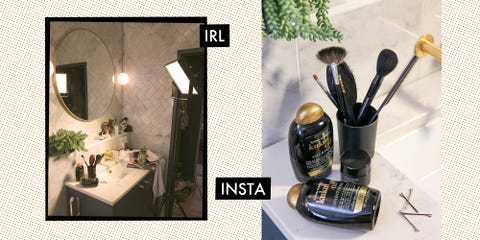 'It's easy to gravitate towards the same blogger aesthetic so I mix up the angles. Flatlays are an Instagram classic so rather than capturing from above, I'll shoot at eye level. If I get stuck for inspiration, Tumblr is a great virtual mood board.
'Once I have a bank of shots lined up, I'll spend the rest of the day editing images and writing blogs posts, as well as admin, whether it's answering emails and planning my diary or going to meetings and attending PR events. It can get lonely, but I love being a one-woman team and setting my own agenda.
'My top tips for influencer life? Keep working on your style, develop a clear voice, only post things you genuinely like. And the main thing to remember: everything looks better on Instagram.'