There's nothing quite like a royal baby announcement to brighten up the most dreariest of Mondays in the UK.
Hours after landing in Sydney, Australia for their first official royal tour as a married couple, Meghan Markle and Prince Harry announced they were expecting their first child, five months after their wedding.
With a due date in Spring 2019, we've already started to round up everything we know about the couple's royal baby.
From baby names and place in line to the throne, to family reactions, here's our low-down of Meghan Markle's pregnancy so far:

Are the couple expecting twins?
Since Meghan Markle and Prince Harry announced they were expecting their first child in Spring 2019, we haven't really heard that much more about the couple's impending parenthood.
However, it's now widely rumoured the pair might be expecting not one but two children.
The Mail Online reports betting website Paddy Power received so many bets that the royal couple are having twins on Friday, they've stopped allowing anymore to be placed.
As a result, it's thought a source with inside knowledge of the Duchess of Sussex's pregnancy may have been the first to place money on the couple having twins.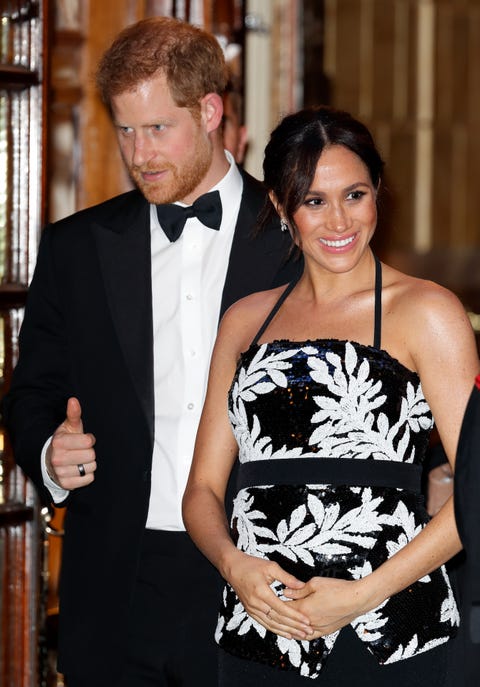 In fact, so many bets were placed on Friday night, it's reported the odds were slashed from 5/1 to odds-on.
A spokesman for the Irish betting company reportedly said: 'We had to suspend betting. We saw an almost identical pattern of betting before the announcements of the couple's engagement and pregnancy.
'Since the day began, the stream of bets has led us to believe that perhaps the punters - or an insider source - knows something more than we do.'
Tongues were set wagging once more during the Fashion Awards 2018, when Meghan Markle - taking to the stage to present Givenchy designer Clare Waight Keller with the British Designer of the Year Womenswear Award - was spotted cradling her baby bump.
Now nearing the end of her second trimester, people are again speculating that her bump might be a little on the larger side:
Look at that baby bump now! Twins? Sooner birthdate? So cute #MeghanMarkle #PrinceHarry pic.twitter.com/FkIRV78gXv — skye 🌦 (@northern_skye) December 10, 2018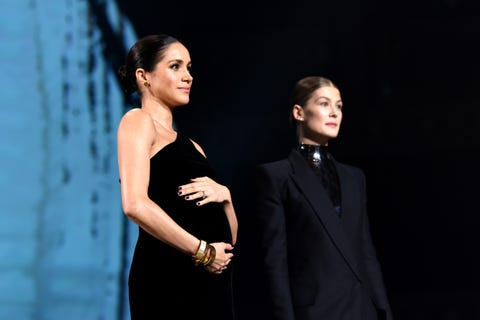 The last time twins were born into the Royal family was in October 1430, when Joan Beaufort, Queen of Scotland, gave birth to twin boys Alexander and James. Alexander died the same year he was born, while James ended up going on to be King.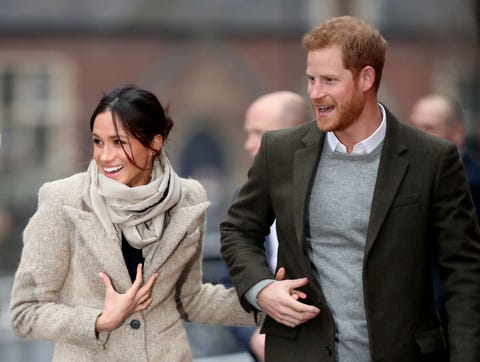 Of course, Kensington Palace hasn't addressed the rumours of whether the royal couple are expecting twins, but the original pregnancy statement read the pair were expecting just onebaby.
ADVERTISEMENT - CONTINUE READING BELOW
The official announcement about Meghan Markle's pregnancy said the couple were 'very pleased to announce that The Duchess of Sussex is expecting a baby in the Spring of 2019.'
Who knew of the pregnancy?
While it's presumed Prince Harry and Meghan Markle kept the pregnancy a secret in the early days of the Duchess of Sussex's first trimester, it sounds like several fashion designers might have been giving a tip as to the mother-to-be's exciting news, long before their first official tour 'Down Under'.
Don O'Neill, creative director of Theia who designed Meghan's stunning white bridal look for her tour of Tonga, explained the design process in a press release.
According to him, the dress creation took two days and was made to accommodate the royal's growing bump.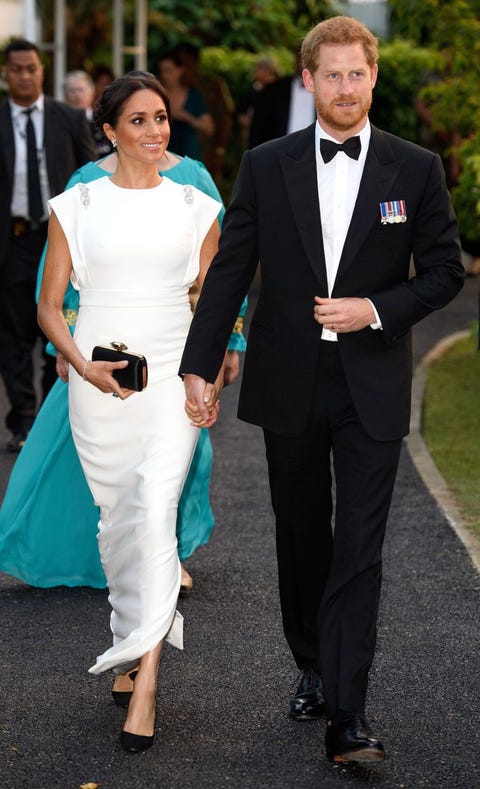 'When her stylist reached out to inquire if I could make a dress for her Australian press tour, I stopped everything we were doing (my bridal show was just a week away) and immediately went to work on Her Royal Highness' gown,' he said.
However after the company sent the dress to the duchess, it need to be remade. the dress to her, it needed to be remade.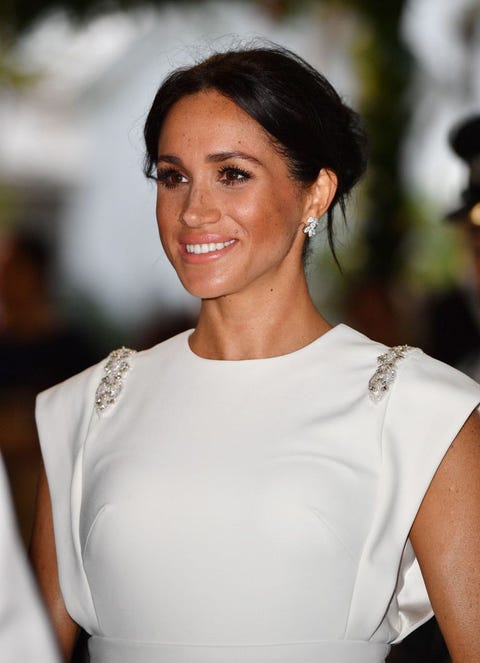 'We needed to remake it with extra seam allowance,' O'Neill said. 'We knew immediately why this extra allowance was required, but mum's the word, and with less than one week to my bridal show, all hands were on deck once more.'
When is the royal baby due?
Information from Kensington Palace has revealed that Meghan and Harry's first child is due in Spring 2019.
As yet, we don't have a specific date, however, rumours are swirling that Meghan's latest choice of jewellery hinted at her due date.
Attending the Jaguar Land Rover Driving Challenge in Sydney last week, the Duchess of Sussex wore an Altuzarra blazer and Invictus Games polo shirt, but most notably sported a trio of Ecksand rings - one with a blue sapphire, another with an emerald and the last boasting a dainty diamond - all set in 18k recycled gold.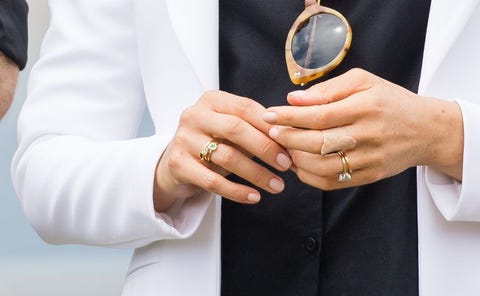 It has been widely speculated that the sapphire is representative of Prince Harry's birth month (September) while the green stone is associated with August which just so happens to be Meghan's birthday month.
Interestingly, the diamond signifies April which has left fans wondering if it's the possible birth month of the royal baby.
After the Duchess of Cambridge gave birth to Prince Louis in April earlier this year, it seems the Spring month is popular for the arrival of royal babies.
Watch this space.
Who will be the baby's godparents?
According to royal tradition, family members are not named as children's godparents, meaning Prince William and Kate Middleton will not be Prince Harry and Meghan Markle's child's godparents. Though, with up to six positions to fill, this means the Duke and Duchess of Sussex need to look to their friends.
We collated a list of names of those me thinks are in the running, due to their close ties with the Duke and Duchess of Sussex:
Jessica and Ben Mulroney
Misha Nonoo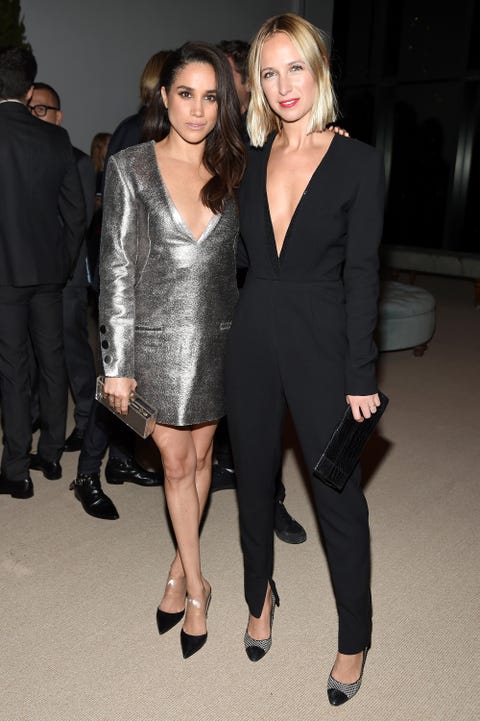 Zoe and Jake Warren
Serena Williams
Lara and Tom Inskip
Amal and George Clooney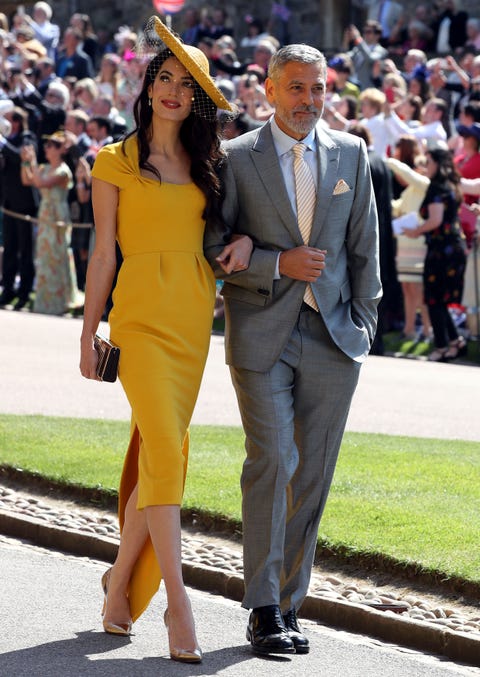 Markus Anderson
Sarah Rafferty
Patrick J. Adams
Priyanka Chopra
Daisy Jenks and Charlie Van Straubenzee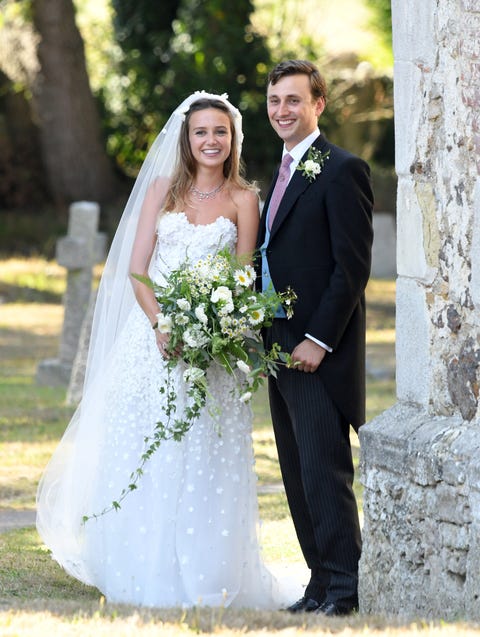 What title will the baby have?
According to The Express, the down-to-earth parents want their first child to have a 'relatively normal life' and believe a royal suffix made impede this. A source close to the couple reportedly explained, 'That word "normal" looms very large for Harry and Meghan when it comes to their child's future.'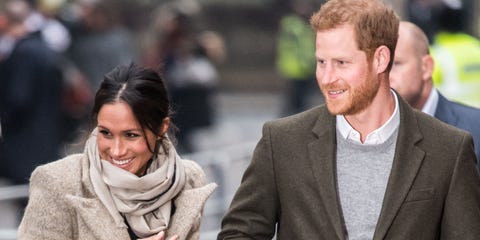 If Meghan gives birth to a baby boy come spring 2019, he is set to inherit the title Earl of Dumbarton. If Meghan gives birth to a girl (as Harry apparently wants) she could be named Lady Mountbatten-Windsor, with her future sons (Harry and Megan's grandchildren), being Lord Mountbatten-Windsor
However, the couple are said to be eschewing a royal title for their firstborn.
Do they want a girl or a boy?
During an event at the Invictus Games in Sydney, a spectator called out to Harry: 'Congratulations! I hope it's a girl.' As Harry was quickly walking past, he asked, 'Sorry?' before the crowd member repeated, 'I hope it's a girl.' After hearing what she said, the Prince responded: 'So do I!'.
The woman says, "I hope it's a girl" #PrinceHarry says, "So do I"#teamtungsten #royaltouraustralia #sussexsquad #HarryandMeghanpic.twitter.com/cdNeYqgJFh — Ed (@Ed59029780) October 21, 2018
He also was heard commenting earlier in the Royal Tour that he liked the name Harriet, the female version of his own name, getting tongues wagging.
Will the baby be a British or American citizen?
According to Dr Devyani Prabhat of the University of Bristol Law School the baby will be automatically entitled to both citizenships, but their parents will need to apply for a US passport, much like they will need to apply for a British one.
She explained to the Huffington Post: 'The royal baby will be entitled to both British and American citizenship as both countries provide for transmission of citizenship through bloodlinks at least for two generations. Both countries permit dual nationality holding by their citizens.'
What will they call the baby?
Although bets are already being placed for what name Meghan and Harry's royal baby might have, it turns out the Duke of Sussex has his own ideas.
The proud father-to-be revealed his adorable nickname for his growing family in a speech at Abel Tasman National Park on New Zealand's South Island.
Whilst addressing local students, the Prince referred to the baby as 'our little bump' saying, 'From my wife, myself and our little bump, it's a blessing to be here.' SO cute.
More officially, according to Fitzdares, a super luxe private bookmakers, Alice is the most popular choice if the baby is a girl with odds of 5/2. Equally classic royal names Victoria, Mary and Isabella follow with odds of 4/1 and 6/1 respectively. Less likely but still in the running are Eleanor, Augusta, Rachel and Diana after Prince Harry's mother.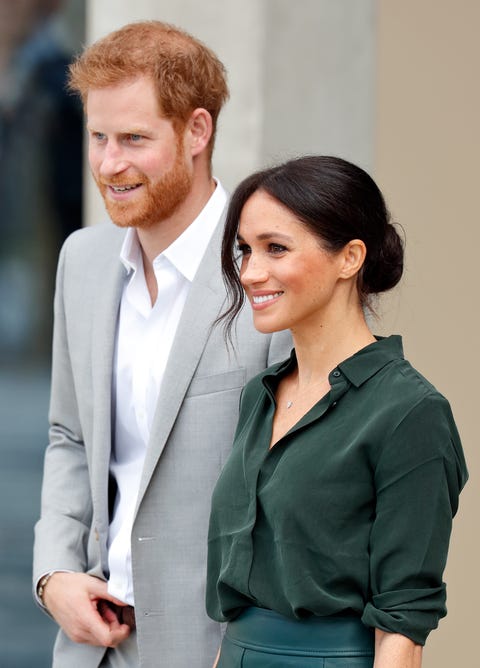 Fitzdares are placing their bets on Alexander if the baby is a boy, with odds of 2/1.
Other popular choices include Arthur (3/1), Philip (6/1) and Albert (6/1). Unsurprisingly most of the predicted names follow in the traditional names used through royal history, with Nicholas, Alfred, James and Thomas all coming in as strong options for Meghan and Harry's first born.
What place will Meghan Markle and Prince Harry's royal baby hold in line to the throne?
As with any new addition to the royal family, the question of succession is one everyone is keen to answer.
So where will Meghan and Harry's baby sit in the British line of succession? The answer is seventh, bumping Prince Andrew (the Queen's second oldest son) down to eighth place, with his daughters Princess Beatrice and the newly married Princess Eugenie moving down to ninth and tenth.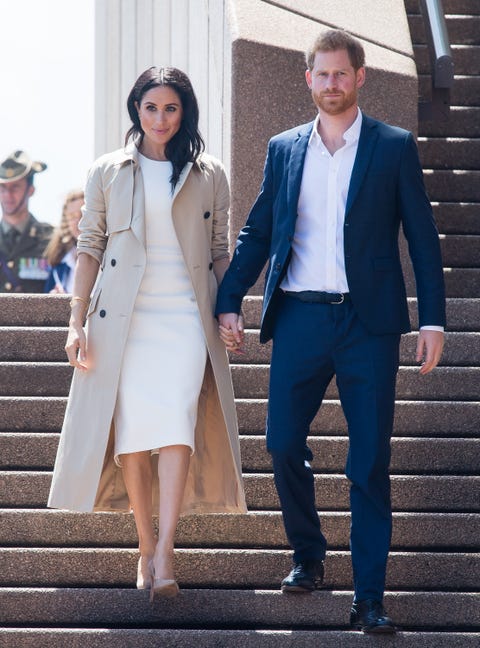 Kate Middleton and Prince William's children, Prince George, Princess Charlotte and Prince Louis, will all remain ahead of their soon-to-be new cousin. Why? Simply because Prince William is older than Prince Harry, and that's how royal succession works.
However, thanks to the Duchess Of Cambridge, the rules about who succeeds the throne have changed in recent years. In 2013, an unprecedented act was passed, declaring in a groundbreaking move, that a baby boy will no longer take precedence over a baby girl, based simply on gender.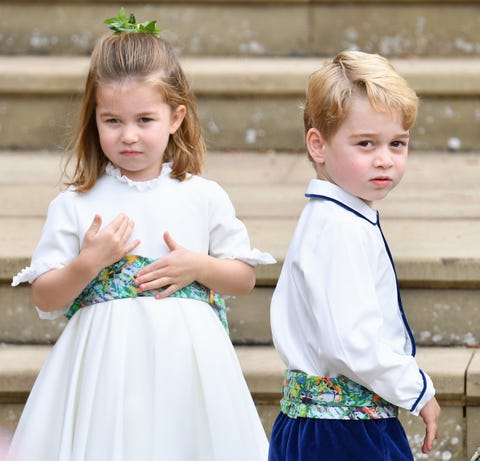 This means that Princess Charlotte will remain ahead of Prince Louis in the line of succession for the first time ever. For Meghan and Harry, it means that if they have a baby girl, then she too could wear the crown herself one day.
How the line of succession will look after Meghan and Harry's royal baby is born:
Prince Charles
Prince William
Prince George
Princess Charlotte
Prince Louis
Prince Harry
Prince Harry and Meghan Markle's baby
Prince Andrew
Princess Beatrice
Princess Eugenie
Prince Edward
James Viscount Sever
Will Prince Harry and Meghan Markle's royal tour be affected by their pregnancy news?
The couple's 16-day tour 'Down Under' will include visits to the Kingdom of Tonga and Fiji, two countries which UK health authorities have classified as having 'a risk of Zika virus transmission'.
According to the NHS, Zika virus disease is mainly spread by mosquitoes and, for most people, it is a very mild infection that isn't harmful. However, it can be more serious for pregnant women, as there's evidence it causes birth defects – in particular, abnormally small heads (microcephaly).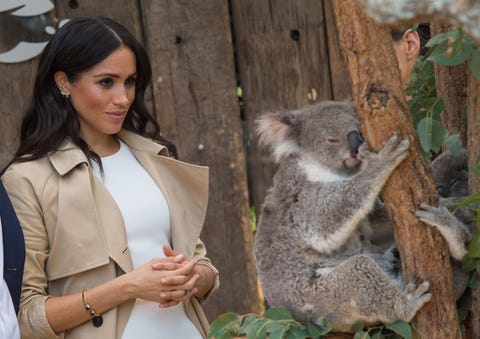 It is recommended women avoid becoming pregnant while travelling to an area with high or moderate risk of Zika virus transmission, and for eight weeks after they return home.
But, the couple's family planning decisions are obviously deeply private, as is their decision to continue with their tour in view of the risk, and therefore it's not appropriate that it be dissected in the public domain.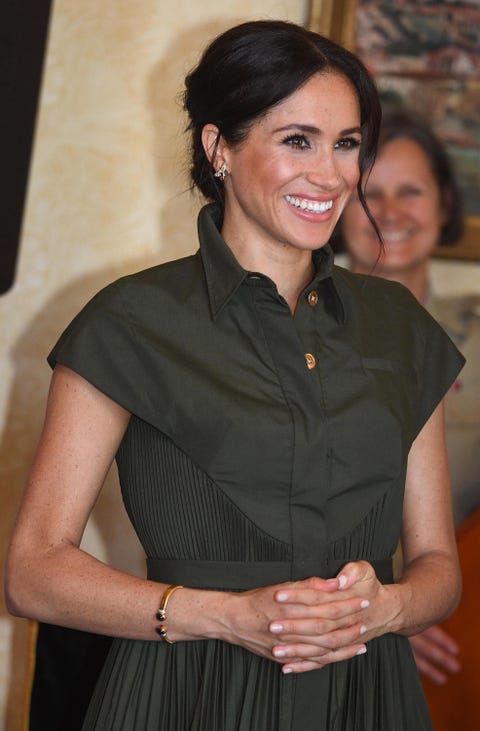 A Kensington Palace spokesperson has also told Elle UK that Meghan did receive medical advice before deciding to continue with travel to Fiji and Tonga.
'As with any overseas visit, medical issues are of course taken into consideration but we wouldn't comment on specifics,' the representative said in a statement. 'There are no changes to the programme.'
How did their family and friends react?
A statement released by Kensington Palace revealed that Meghan's mother, Doria Ragland, is 'very happy' about her daughter's pregnancy news.
'Ms Doria Ragland is very happy about the lovely news and she looks forward to welcoming her first grandchild,' a spokesperson said (via The Telegraph).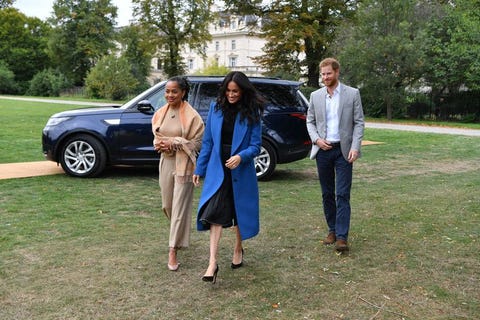 Other members of the royal family also shared their best wishes for the couple, who attended Princess Eugenie's wedding in Windsor on Friday.
'The Queen, Duke of Edinburgh, Prince of Wales, Duchess of Cornwall, and Duke and Duchess of Cambridge are delighted for the couple and were able to congratulated them in Friday at the wedding in person,' the spokesperson added.
The Twitter account for Suits, the drama series in which Meghan starred in for seven years, sent their best wishes to the expectant mum on Monday.
On behalf of the entire #Suits family, we are sending love and congratulations to The Duke and Duchess of Sussex, Prince Harry and Meghan Markle, on their pregnancy.https://t.co/NdpAiiPBkOpic.twitter.com/J5rtC3U7s3 — Suits (@Suits_USA) October 15, 2018
'On behalf of the entire #Suits family, we are sending love and congratulations to The Duke and Duchess of Sussex, Prince Harry and Meghan Markle, on their pregnancy,' the tweet read.
Meanwhile, during Prince Charles' visit to the Royal Lochnagar Distillery in the Scottish Highlands today, a reporter asked the royal if he'd 'toasted news of the royal baby'. With a cheeky grin, the Prince of Wales replied, 'Oh yes, absolutely,' before adding, 'Several times, at the moment!' with a hearty laugh.
Prince Charles jokes that he has toasted the royal baby 'several times' already on distillery tour https://t.co/8nL3zB92KMpic.twitter.com/mTg4Z42EzZ — ITV News (@itvnews) October 16, 2018
When did they announce the news?
On Monday 15 October, Kensington Palace announced the news that the couple are expecting their first child with an exciting statement via Twitter that read: 'Their Royal Highnesses The Duke and Duchess of Sussex are very pleased to announce that The Duchess of Sussex is expecting a baby in the Spring of 2019.
Their Royal Highnesses The Duke and Duchess of Sussex are very pleased to announce that The Duchess of Sussex is expecting a baby in the Spring of 2019. pic.twitter.com/Ut9C0RagLk — Kensington Palace (@KensingtonRoyal) October 15, 2018
'Their Royal Highnesses have appreciated all of the support they have received from people around the world since their wedding in May and are delighted to be able to share this happy news with the public.'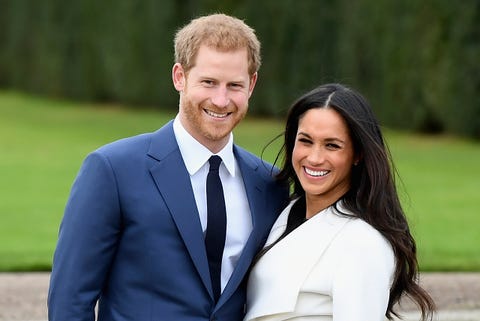 The pair landed in Australia for their first overseas tour together as a married couple, and are expected to go ahead with their planned engagements.
The news comes days after the rumour mill went into overdrive with suggestions that Markle was showing signs of a small baby bump at Princess Eugenie and James Brooksbank's royal wedding at St George's Chapel, Windsor on Friday.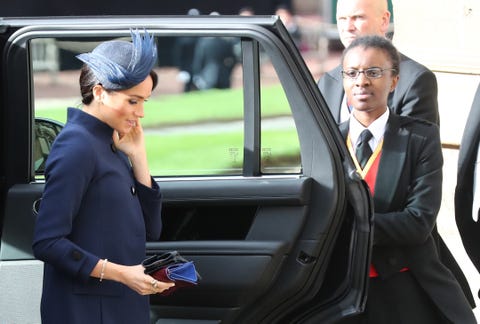 Wearing a navy blue Givenchy coat dress, the Duchess notably only fastened the top two buttons of the garment.