If your quest for a perfectly matte complexion is often ruined by an unsightly oil slick come 3pm, well, you're not alone.
Genetics, hormones, chemicals and even the weather can all contribute to oily skin, making us go through more blotting papers and powder compacts than our totes can handle.
And while a little sheen has the ability to make skin look healthy, dewy and glowy (hello, overflowing highlighter collection) it's less than supermodel-esque when it creeps up on your T-zone and generally everywhere else.
So, in a bid to stay completely shine free, we got the experts involved.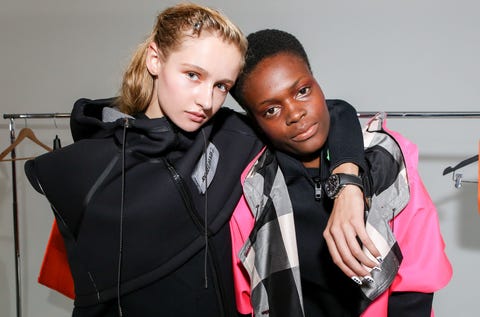 What makes skin oily in the first place?
'Oily skin is caused by excess sebum production,' explains Dr. Anjali Mahto, consultant dermatologist at the Cadogan Clinic.
'This is the skin's natural oil and there are a few reasons why your skin may product more at certain times, such as: during your menstrual cycle, when you're physically or emotionally stressed and if you're using products that don't suit your skin type. The oily appearance is also often seasonal and can coincide with humid weather.'
According according to Dr. Jonquille Chantrey, cosmetic doctor and skin expert, overactive sebaceous glands can even be a genetic thing (cheers, mum) and hormones also play a huge role.
'The imbalance of testosterone increases the activity of sebaceous glands,' she says, 'Those with Polycystic Ovarian Syndrome often have trouble with oil and acne.'
So, how exactly can you get rid of oily skin?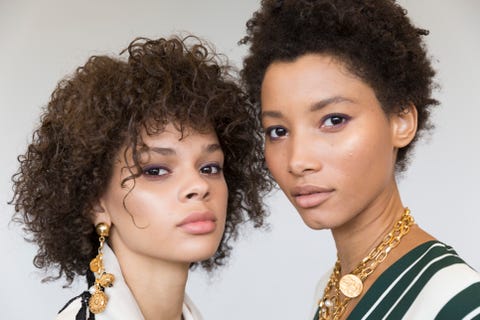 1. MASTER YOUR DAILY CLEANSING ROUTINE
When you have oily skin, the urge to cleanse throughout the day can be a strong one but according to Dr. Anjali, more isn't always better.
In fact, over-washing is a complete no-no.
'You should avoid over-cleansing if you have oily skin,' says Dr. Anjali, 'as this can result in unnecessary irritation and may even disrupt the skin's natural barrier. Ideally, you should be cleansing twice a day to help clean pores of sebum, dead skin cells and other debris.'
So what types of cleansers should we be looking out for to keep the dreaded shine at bay for longer? And are there any we should kick?
'Oil cleansers are a beauty fad that is best avoided,' explains Dr. Anjali, 'and this is because they can leave behind a residue which can block pores and lead to spots.
'Instead, opt for foaming cleansers or micellar water which will remove dirt, oil and make-up without stripping the skin of moisture.'
2. EXFOLIATE REGULARLY
Oily skin is typically much thicker which means wrinkles are less likely to appear (good news, right?) but something it is prone to is spots and blemishes, as excess sebum mixes with dead skin cells to form a paste-like substance which blocks pores and allows bacteria to multiply.
Yes, that sounds gross, but regular exfoliation is the best way to combat it.
'If your skin is oily, it's hard for the skin to shed dead cells, so exfoliation is key,' says Dr. Natalie Blakely aesthetic doctor and owner of the Light Touch Clinic.
'Physical exfoliation combined with chemical exfoliation will speed up cell turnover and prevent clogged pores so your skin boasts that healthy glow,' she adds, 'although, like cleansing, it's vital not to overdo it. Two to three times a week is enough.'
3. DON'T GIVE UP ON THE MOISTURISER
A common misconception is that if your skin is oily, it can't be dehydrated and most of us are guilty of ditching our moisturisers and serums out of fear of making it greasier - but we could be doing more harm than good.
In fact, products like these are necessary to maintain moisture levels, and if your skin is lacking in hydration, oil production can go into overdrive to compensate.
'Even though it seems counter-intuitive, applying light moisturisers and serums to oily skin, especially when using strong cleansers, can help prevent the skin from becoming dehydrated,' says Dr. Natalie Blakely, something Dr. Anjali echoes.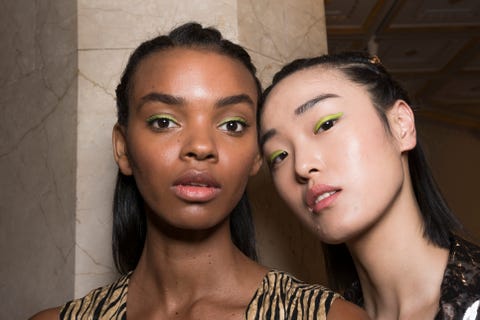 'Oily skin still needs hydration or water,' she says, 'and just because dehydrated skin lacks water, does not mean that it is not still producing oil!'
With that in mind, your choice of products is an important one - and if you're worried about blackheads and blemishes as well as that dreaded shine, it's best to avoid those that are super-creamy, heavy and occlusive.
'Never use a moisturiser for dry or dehydrated skin,' says Dr. Jonquille. 'Any excess moisturisation in oily skin could make the situation worse.'
Dr. Anjali's suggestion? 'Avoid thick creams and try a hydrating yet mattifying moisturiser. I'd recommend La Roche-Posay's Effaclar Mat Regulating Moisturiser, - it's good quality and anti-shine.'
4. INCORPORATE A LEAVE-ON BHA INTO YOUR SKINCARE ROUTINE
Acids are an important step in any regime if you want selfie-ready skin, but leave-on BHAs like salicylic acid especially play a huge part in controlling over-zealous oil production, as well as minimising blackheads and blemishes.
'When it comes to combating oily skin, salicylic acid is the star ingredient,' says Dr. Natalie Blakely.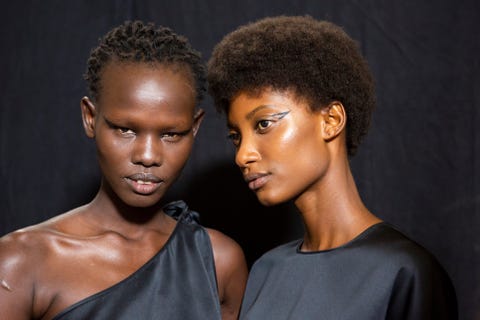 'It is an oil-soluble acid which means it will gently cut through the oil on your skin and unclog your pores. Salicylic acid also has great antibacterial properties and that makes it extra helpful for those with active acne,' she adds.
The best way to use it? As a twice-daily exfoliant after cleansing. Just don't make the mistake of rinsing it off as it'll be nowhere near as effective at chipping away at any greasiness.

And if you're using a salicylic acid cleanser, leave it on for 2-3 minutes before washing.
5. BE CAREFUL WHEN BUYING PRODUCTS FORMULATED FOR OILY SKIN
Believe it or not, products specially formulated for minimising oiliness may actually exacerbate the situation - especially if they are used inappropriately.
Put that alcohol-laden toner down.
'If the reason behind your oily skin is actually dehydration and you're using harsh products, they may be stripping the skin of moisture,' says Dr. Anjali.
'This this could be making the problem worse, so make sure to check through the ingredients thoroughly, or speak to your dermatologist for more product recommendations.'
6. STOCK UP ON HYALURONIC ACID
According to Dr. Jonquille, dehydration is a result of sluggish skin cells under-producing moisture magnet hyaluronic acid - a natural occurring substance which makes skin feel plump and less prone to fine lines or that uncomfortable, tight feel.
And if skin is dehydrated, it's more likely to produce excess oil - not cool.
The best part? There are serums, moisturisers, masks and cleansers filled to bursting with the skin-saving ingredient which not only help mop up oil but prevent it from showing up in the first place.
7. CUT DOWN ON ADDED SUGAR
We're all aware of what consuming too much added sugar can do to our teeth and waistlines, but there's another reason to cut down: a greasy T-zone.
'Added sugars like honey, cane sugar, maltose and corn syrup may trigger hormone and blood sugar levels,' says Will Hawkins, nutritionist at Push Doctor, 'and this can lead to excess oil production which explains that overly greasy look.'
And while you'd be forgiven for making a beeline for the treats table come 4pm, there are other ways to satisfy your sweet tooth without sabotaging your glow.
'Satisfy your sugar cravings with a cold pressed juice,' suggests nutritionist and PT Tom Oliver.
'Mello's Raw Fresh Watermelon Juice is great to sip when you're on the go and plant-based waters are also a good option as they are super-hydrating; maintaining hydration really helps support regular cell processes and skin firmness. Try the True Nopal Cactus Water - it has a slightly sweet berry flavour but doesn't contain any added sugars.'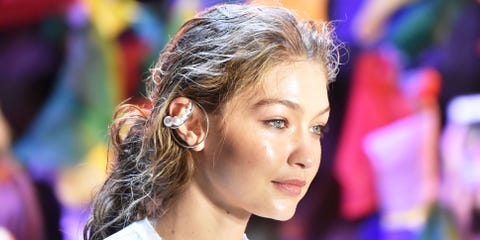 8. LIMIT THE AMOUNT OF SATURATED FAT IN YOUR DIET
There's a long list of reasons why we should be limiting the amount of saturated fat in our diets, but according to Will, achieving a flawless and perfectly matte complexion is also one of them.
'Meat that is high in saturated fat will increase your cholesterol,' he explains, 'and increased cholesterol is associated with excessively oily and spotty skin.'
They aren't all bad, though.
Fatty acids like Omega 3 acts like a natural moisturiser and has the ability to revitalise skin from the inside out. Salmon, tuna, flax-seeds, pumpkin seeds are rich in them, too, but taking a daily supplement is also a great way to feed your skin.
9. GET ENOUGH SLEEP AND MANAGE YOUR STRESS LEVELS
Those late nights, packed tube journeys and seriously stressful work presentations? They could be making your skin much oilier.
Yep, really.
'Sleep deprivation and excessive stress can cause a spike in androgen production,' explains Dr. Anjali, 'and this is a hormone directly responsible for stimulating oil production.
'Try to get a proper amount of sleep every night [7-9 hours] and find time during the day to de-stress, whether it be through physical exercise, yoga or meditation.'
And if you're a beauty junkie, there are a whole army of essential oils, salts, balms and sprays which promise to kick stress, low moods, anxiety and even insomnia to the kerb.
10. GOOD MAKE-UP PREP IS KEY
For a complexion that is shine free for longer, it's best to start on freshly cleansed skin and according to make-up artist Gabriella Floyd, it's important to prep with products that are completely oil-free as not to exacerbate the situation.
'I'd recommend Dermalogica's Medibac Clearing Mattifyer, £63 in areas of oiliness such as the T-zone and around the nose, then treat other, slightly dryer areas of your skin to the Dermalogica Medibac Oil Control Lotion, before make-up,' she says.
'If you like to use a primer before foundation, snap up the Laura Mercier Primer Oil Free,. I can guarantee that it'll keep your make-up on all day!'